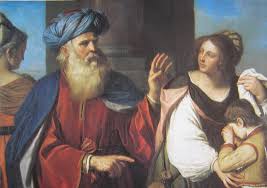 After the birth of the promised son, Isaac, Sarah regretted her decision to have her servant become the mother of a boy, with Abraham as the father.  What about the inheritance?  Sarah wanted the entire inheritance to go to Isaac; so she said to Abraham that she wanted Hagar and Ishmael to leave.  This request worried Abraham; because he was concerned about Ishmael's safety and welfare.
God said to Abraham that it was okay to do as Sarah requested; and that He would make Ishmael's descendants into a great nation.  So, Abraham provided food and water and sent Hagar and Ishmael away.
Without a destination in mind, Hagar wandered with the infant until their supply of water was exhausted.   Thinking they would die, she placed the infant under a bush and wept bitterly.
God heard the weeping and He told Hagar that Ismael would be the father of a great nation.  Then God revealed to her a well with water.  God blessed Ishmael; and as he grew older he became an expert with his bow and arrows.  [Reflection based on the Bible Reference – Genesis 21:9-21]