Click on the following icons to read today's devotional from these sources:
Our Daily Bread
Our focus: reaching out to people all around the world with the message of God's love.
A non-denominational, non-profit organization with staff and volunteers in over 37 offices working together to distribute more than 60 million resources in 150 countries. We provide materials to help people grow in their relationship with God.
My Utmost For His Highest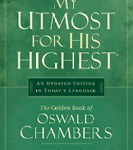 My Utmost for His Highest continues to challenge and encourage people all over the world, through more than 13 million copies printed, a mobile app, website, email, and social media sharing. A century after his death, Oswald Chambers still guides people on their journey to knowing God better.