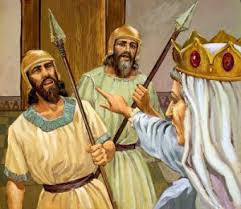 Athaliah, the mother of King Ahaziah of Judah, the wife of deceased King Jehoram, and the daughter of King Ahab and Jezebel possessed many of the characteristics of her mother, in that she worshipped Baal and convinced her husband, King Jehoram to turn from the worship of God.
Because of the disobedience of King Joram of Israel and King Ahaziah of Judah, Jehu was anointed to become king of Israel and was instructed by God through the prophet Elisha to avenge the death of God's prophets and servants by killing kings Joram and Ahaziah.
Upon the death of her son, King Ahaziah, Athaliah seized the throne and ruled as Queen for six years.  To protect her power, she had all the males in the royal family executed…or, at least she thought.
Her daughter, Jehoshabeath, hid one of the grandchildren, Joash.  After six years, Jehoida, the priest revealed Joash's presence and Athaliah was executed.  [Reflection is based on the Bible Reference - 2 Kings 11:1-16]