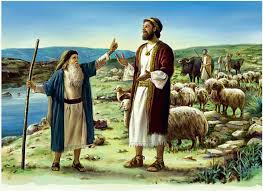 Samuel was clear in his instruction to Saul: "Go down ahead of me to Gilgal.  I will surely come down to you to sacrifice burnt offerings and fellowship offerings, but you must wait seven days until I come to you and tell you what you are to do."
Rather than waiting for God to lead his actions, Saul mobilized a fighting force of three thousand men and attacked one of the Philistine outposts.  The Philistines prepared a counter-attack with three thousand iron chariots and a huge number of foot soldiers.
Saul wanted God's approval and help; so, he waited seven days for Samuel to arrive and offer the sacrifices and receive God's instructions.  Meanwhile, Saul's fighting force was dwindling as the frightened men, with no fighting equipment, began to disappear.  Impatiently, Saul decided to go ahead and offer the sacrifices in place of Samuel.  As Saul was completing the sacrifices, Samuel arrived and asked Saul what he was doing.  Saul blamed Samuel for being late and his men for deserting him; but avoided taking responsibility.
Samuel told Saul he had acted foolishly and that God was not pleased and had sought out a man after his own heart that would lead the people.  [Reflection based on the Bible Reference – 1 Samuel 10:8; 13:1-14]