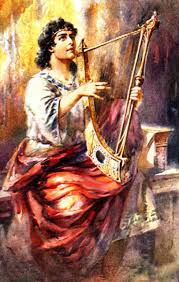 When Saul chose to turn away from obedience to God, the Spirit of God departed from Saul, leaving him tormented by an evil spirit.  His attendants suggested they find someone accomplished in playing a lyre, in an attempt to make him feel better.  Saul agreed and God led the attendants to David.  Service as a musician for the king was required only on a part-time basis; so, David travelled back and forth from the king's residence to his father's home, where he tended sheep.
Meanwhile, the Philistines had amassed a force at Ephes-Dammim in what appeared to be preparation for an attack on Israel.  The Israelites countered with a military force within sight of the Philistines.  Each side occupied a hill with a valley separating them.
David's father, Jesse, was concerned about the well-being of three of his sons who were part of the Israelite military force.  So, he sent David with some food provisions to distribute to his brothers and the commander of the forces; and to bring back a report.
When David arrived, he saw a general state of confusion.  There was a Philistine warrior, named Goliath, nine feet tall that was challenging any Israelite to fight him.  No Israelite accepted the challenge…except one: David volunteered; but would King Saul approve?  [Refection based on the Bible Reference – 1 Samuel 16:14-17:32]