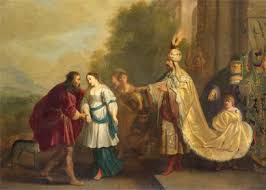 When Abraham arrived in the land of Canaan, God said to him, "I will give this land to your family forever."  In humble praise and worship, Abraham responded by building an altar for the Lord.
The flocks of Abraham and Lot were large and finding pastures for grazing was a normal part life.  In time there was a widespread famine in Canaan, with no grazing land to be found anywhere.  Abraham travelled south with the flocks, until he came to Egypt where there was grazing land.
In his mind, Abraham thought the King was powerful and would be attracted to his wife, Sarah; so he came up with a plan.  He didn't ask God what He thought of the plan.  Instead, he asked Sarah to pretend to be his sister; because he thought the King would have him killed if he knew Sarah was his wife.
Fortunately, for Abraham and Sarah, God intervened in this ill-conceived plan.  When Sarah was taken into the King's palace, all manner of terrible diseases struck the King and everyone in the palace.  When the King determined the cause, he released Sarah and ordered that Abraham and Sarah should take all their possessions and leave.  [Reflection based on the Bible Reference – Genesis 12:10-20]