Annual Women's Retreat
Each year the wonderful women of Ono retreat to Gretna Glen for fun and fellowship. The next retreat will be held October 19, 20, and 21, 2018. Gwen Jackson will be the speaker this year.
Women With Whimsy
The May craft will be a cement leaf casting project.  Join us Friday, May 25th, 6:30 PM.  This will be the last meeting until fall.  Price will be $15.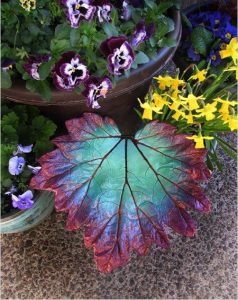 Onorobics
Meets Mondays and Thursdays @ 6PM in the Fellowship Hall.  Classes are open to all women and are free of charge.
Ladies Sharing Group
Meets the first and third Thursdays of the month during September to April @ 9:30 AM in the Fellowship Hall.  Currently we are discussing the book "Stuck" by Jennie Allen.
HIS Servants
Meets the first Tuesday of the month during September to April @ 6 PM.   We provide meals to those just coming home from the hospital, including new mothers.  We support Mission Central, which provides disaster relief, mission outreach and mission education.  We pack shoeboxes throughout the year for "Operation Christmas Child", part of Samaritan's Purse.