Items for either Lebanon County Christian Ministries, JOY Outreach Pantry or Grantville Pantry can be placed into the containers by the collection corner or contact the Church Office at 865-7469.
Nobody can do everything; but, everybody can do something.
Lebanon County Christian Ministry
JOY Jonestown Outreach PantrY
Grantville Area Food Pantry and Clothing Closet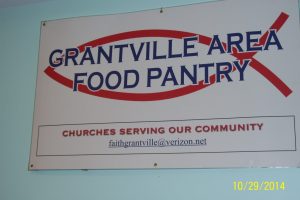 The Gospel Center
Website: thegospelcenter.com
Address: 27 N. 10th Street Lebanon, PA  17046
Call (717) 273-0123

Join us for the Community Meal Event each Saturday at 5:30 PM. The Worship Service begins at 5:30 followed by a delicious Community Meal at 6:00. In order to receive the meal, you must first attend our Community Worship Service. Doors close at 6:40 … so don't be late! It is a great time together!
Ono helps out at the Saturday Meal and Worship.  If you would like to help, the next scheduled time Ono will be there is February 3.